Medical website design is an important aspect of a healthcare organization's online presence. A well-designed medical website can provide valuable information to patients, facilitate communication between healthcare providers and patients, and improve the overall patient experience.
It is also important to consider the overall branding and messaging of the website. This can include the use of specific colors, fonts, and images that reflect the values and mission of the healthcare organization.
But maybe you are just beginning to consider having an online presence to boost your clinical practice. You do not have the required technical and coding skills or expertise to build a killer website.
Now, what if, you are provided with a pre-built website template that just needs a little bit of tweaking to make your very own? The templates below are exactly that. They are not only visual upgrades but contain numerous practical features like online transactions, multi-device responsiveness, and amazing sections and layouts.
Our Choice of Medical Website Templates for you
1. Medilink - WordPress Theme for Medical Institutions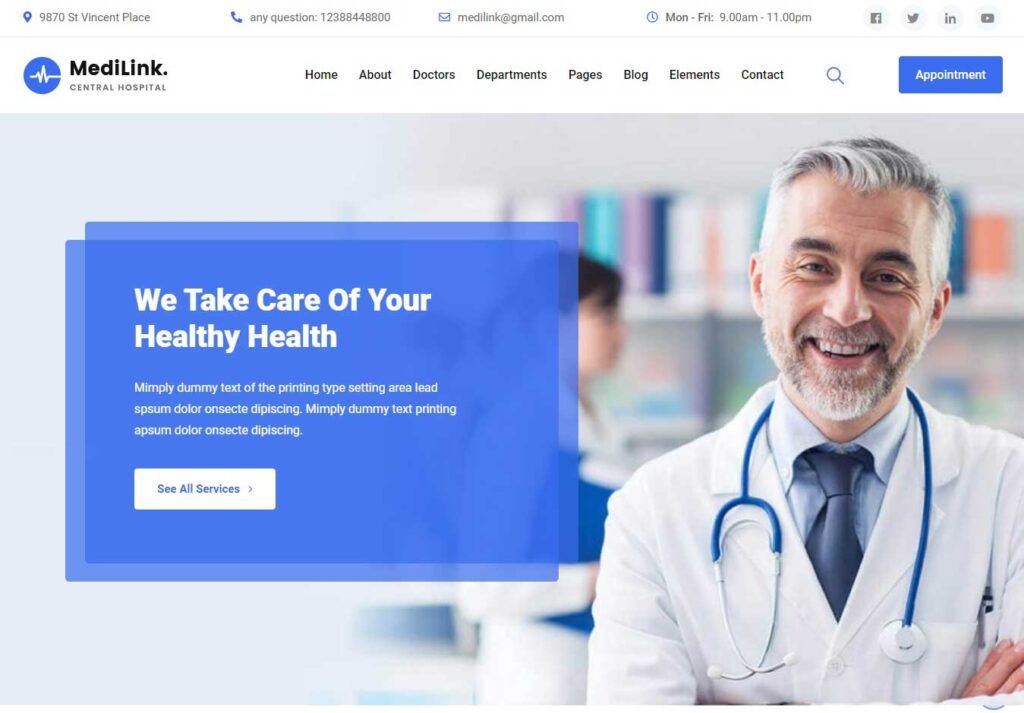 Do you want to create a website for your clinic, medical institution, or hospital? Medilink is a one-place solution designed specifically for health-related organizations.
The design is focused on the patient's needs and requirements, giving them clear solutions to their problems. In addition, it has features like a doctor's timetable, clinic schedules, and patient booking service. You can customize prebuilt pages of different individuals, and departments to ensure patients get the right information and appointments.
The theme is designed with the Elementor page builder, an easy-to-use drag & drop customization tool with no pre-required coding or technical skills. So, you could customize it to make it your very own.
2. Mental Press - WP Theme for your Psychology Website.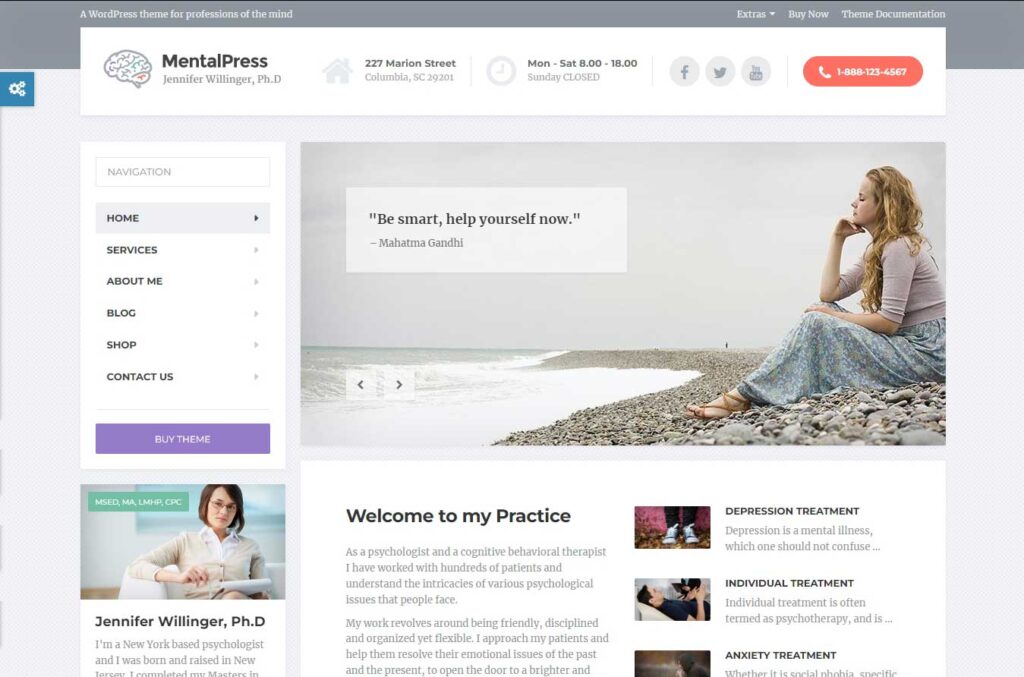 Primarily made for individual Psychology professionals for their private practice, the Mental Press theme offers features like online consultations, blogs, a web store, and patient information material.
With easy-to-use customizing features and pre-built materials, it can be used for a variety of purposes related to medicine, counseling, and behavioral therapy.
Use its elegant design to attract new customers to your refreshing and appealing website.
3. Mediz – Perfect Designs for Medical Websites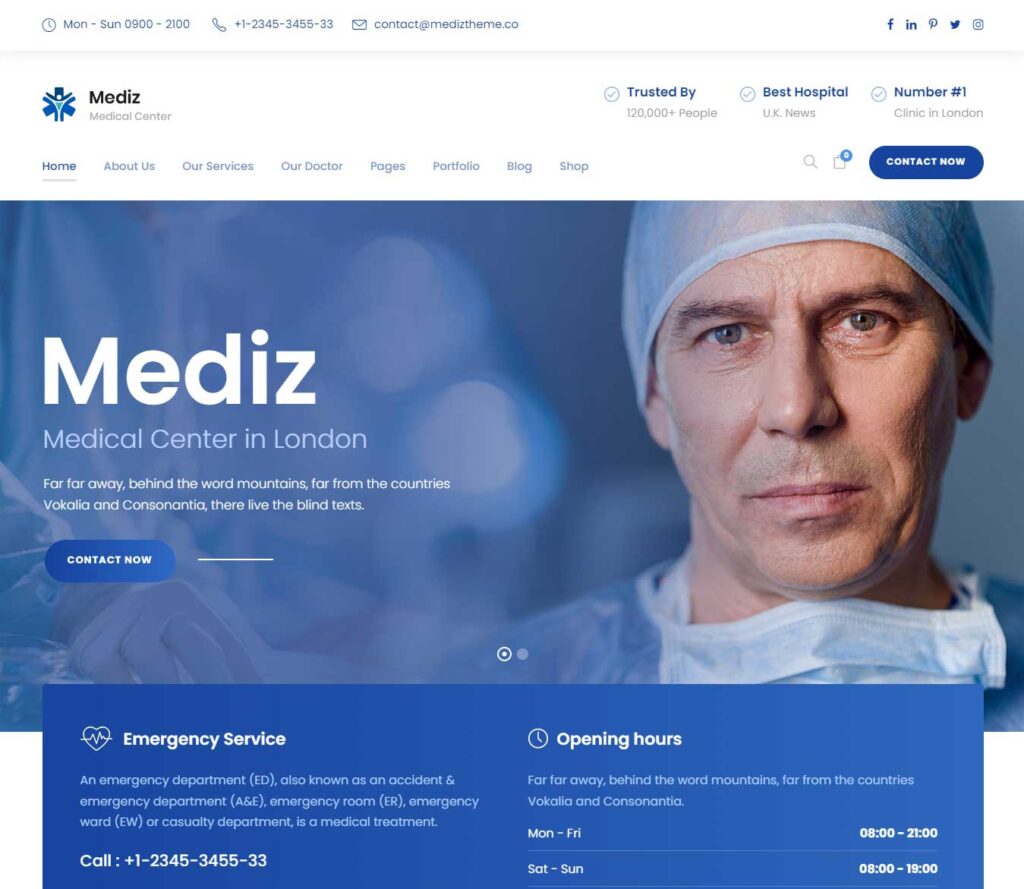 Made by GoodLayers an all round theme for hospitals, medical clinics, dentists, and skin care. Customizable to the last content and section, you can choose from multiple arrays of headers, colors, fonts, and footers to make it your very own.
In addition, GoodLayers are known for its excellent medical website design, customer service, and support. So you are in good hands if you ever have a roadblock using the theme.
4. Dental Clinic - WordPress Theme for Dentists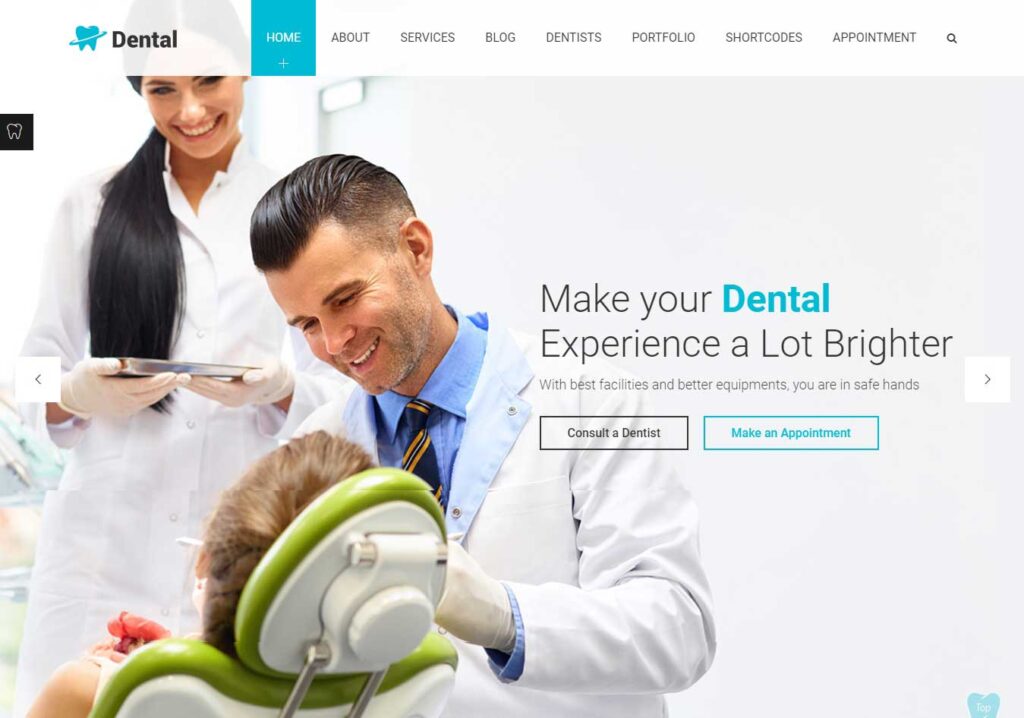 Other themes here may have a page built for dentists, but the Dental Clinic theme is exclusively made for dentists and Orthodontists. Best suited to show your expertise in Dental Care, Oral Care, Gum treatments, Cavity treatment, and many more.
Combined with appealing heading animations and multi-layered content placement, the heavy lifting is already done for you. The theme also gives you the option to share your valuable insights via blog posts and articles, so your patients would want to visit the website for more than to schedule an appointment.
5. Physio - Physical Therapy WP Theme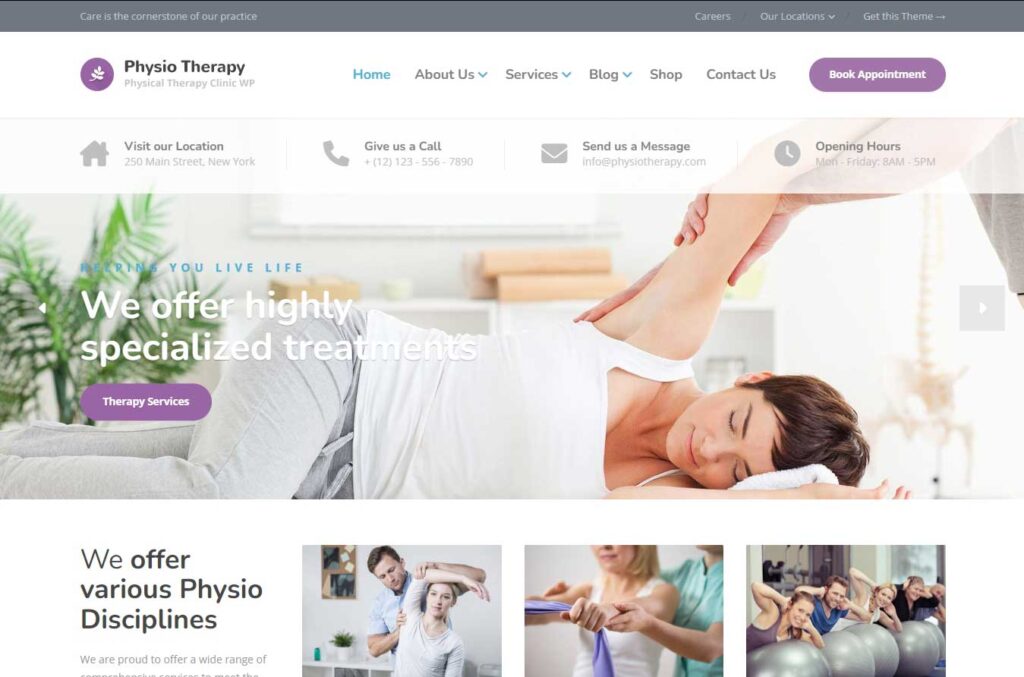 We are not leaving the physio-therapists behind. Physio is a perfect theme for physical therapists, chiropractors, and physical rehabilitation centers.
Once you thoroughly investigate the ready-to-use demo, you will notice one thing — nothing is missing.
A full-screen slider with a parallax effect is the first thing users will see, which will spark their interest and encourage them to act.
The theme also comes with right-hand language support, simply change the WordPress language and the theme will adapt to it.
6. PharmaCare - Pharmacy and Medical Store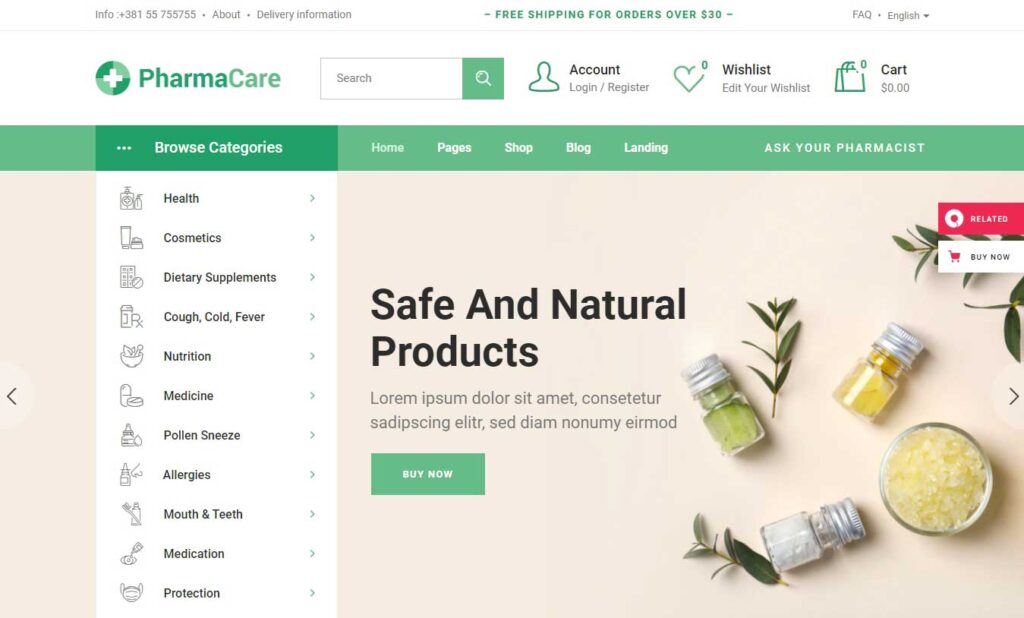 Lastly, a theme for pharmacies and drug stores. Pharmacare is a modern, streamlined WordPress theme that showcases medicines, cosmetics, and supplements.
All items offer, and coupons are listed via the WooCommerce plugin of WordPress.
You can design unique slides for your products showcasing offers, promotions, and much more on the front page.
How to ensure that your Medical Website is up to the mark
First, it is important to consider the target audience for the website. This can include patients, healthcare providers, and other stakeholders such as insurance companies and regulators. Each of these groups may have different needs and expectations, so it is important to design the website in a way that meets the needs of all potential users. Know more about business website strategy here.
Accessibility is another important aspect of medical website design. This includes making the website easy to use for individuals with disabilities, such as those who are visually or hearing impaired. This can be achieved by using appropriate alt text for images, clear and concise headings, and the use of larger font sizes.
Finally, it is important to consider the use of multimedia on the website. This can include the use of videos, podcasts, and other interactive elements to engage users and provide additional information.
In summary, medical website design is an important aspect of a healthcare organization's online presence. By considering the needs of all potential users, incorporating branding and messaging, ensuring accessibility, and utilizing multimedia, a well-designed medical website can provide valuable resources and improve the patient experience.
The above themes and many others have made it a lot easier for any non-technical person to launch and build their own medical websites. However, you might need help or advice when it comes to customization to depict your own unique brand. We at Ehsan Labs can come through for you to help make the theme truly your own. Contact us after acquiring any of the above themes and get a Discount on the price you will pay from our WordPress design packages.