Have you ever searched for something online and found yourself scrolling through pages and pages of results before finally landing on the website you were looking for? It's frustrating, right? This is why having a top-notch SEO strategy is essential for any online business or blog. Enter SEO content writing services – the superheroes of online marketing that helps websites and blogs soar to the top of search engine rankings and attract more organic traffic. But what exactly is SEO content writing, and how does it work?
Think of SEO content writing as a carefully crafted recipe for search engines and humans alike. Just as you add ingredients to a dish to make it more flavorful, SEO content writing services add keywords, meta descriptions, and other elements to website content to make it more appealing to search engines. The end result? A delicious, high-quality piece of content that ranks well on search engines and provides value to the reader.
SEO content writing is an important part of the wider content marketing strategy which also deals with the type of content to write and the people whom you write for.
Why use SEO Content Writing Services?
Hiring SEO content writing services have the potential to boost your website's search engine rankings. However, it's important to keep certain aspects in mind before taking the leap. Firstly, the quality of the writing should be top-notch, as you want to establish trust with your website visitors and convert them into loyal customers. Secondly, it's crucial to choose a reliable agency that you can trust with deadlines and data.
Another important consideration is the budget. While it may be tempting to opt for the cheapest option, this is often a mistake. Instead, consider medium-sized agencies that offer customized solutions that meet your specific needs and expectations. To help make the process easier, we've compiled a list of recommended agencies that either have a highly skilled team or offer access to the best SEO talent available.
Remember, there is no one-size-fits-all approach to business content marketing. To ensure that you make the best choice for your website, it's important to review customer feedback, testimonials, and reviews.
And now, let's move on to the exciting part. 👇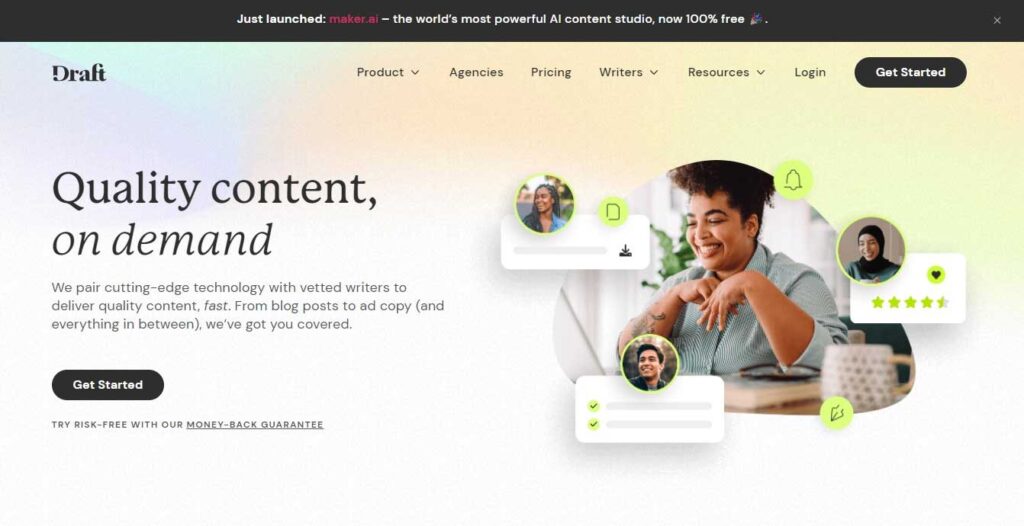 Draft is a highly efficient content writing service that offers a wide range of options, including SEO blogs, social media posts, email marketing copy, and more. The process of obtaining quality content is simple and straightforward – just provide a content brief and brand voice guidelines and the Draft team will take care of the rest, assigning your topics to their network of handpicked writers, who are selected from less than 1% of applicants. With a quick turnaround time of just 5 minutes, you can have your content written by highly skilled writers.
Over the years, Draft has built a strong reputation for delivering fast and thorough content writing, with over 2,000 satisfied clients. Quality is a top priority at Draft, as all content is thoroughly checked for plagiarism and undergoes proofreading checks. The pricing is transparent, with a cost of only $0.1 per word, making it an affordable option for businesses. And, with a 4,000-word money-back guarantee and unlimited revisions and edits, trying Draft is a risk-free experience.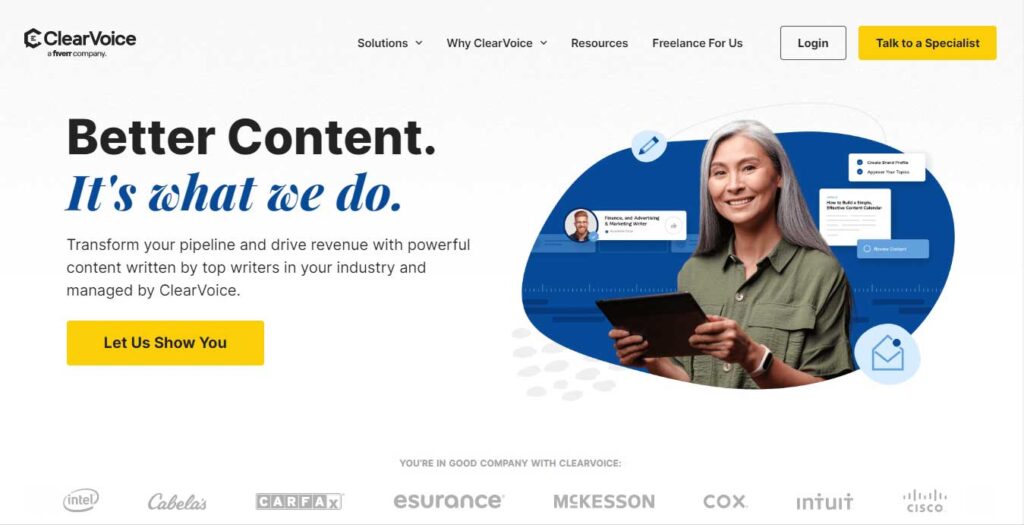 ClearVoice is a cloud-based platform for content marketing, helping digital marketing agencies of all sizes with creating web content and building brand awareness campaigns. It serves as a hub for clients seeking various types of web marketing content such as high-quality writing, graphics, and coding.
ClearVoice empowers content marketing agencies with a centralized solution to manage content, analyze search volume, and plan campaigns with the right keywords and information. The platform streamlines communication and collaboration on content creation, editing, brand guidelines, and audience analysis. Prices are on demand.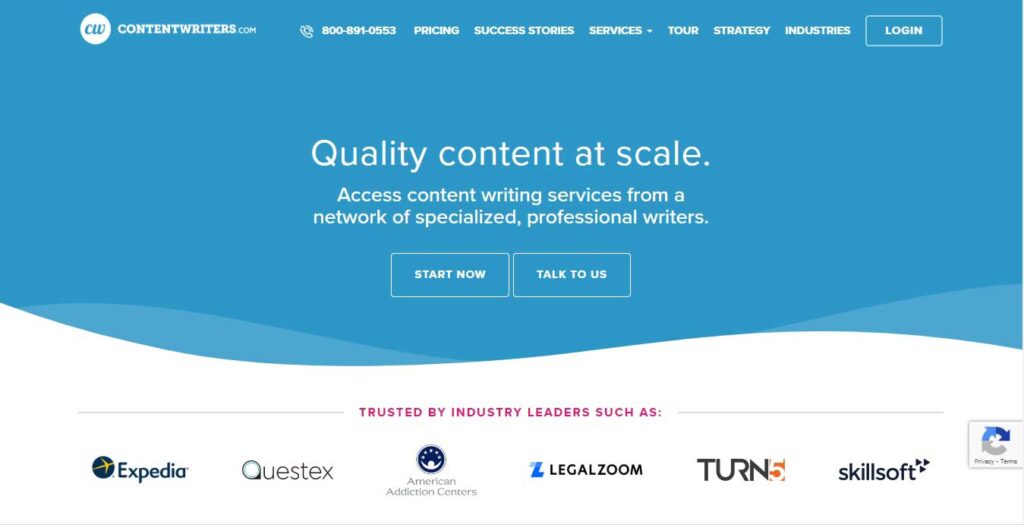 Used by companies such as Expedia, Skills soft, and Adobe, ContentWriters is very well respected in the industry. They focus on connecting agencies, publishers, stores, and brands with professional, expert copywriters and assign you a dedicated account manager to help you get the most out of their SEO content writing service. Not only is the content guaranteed to be 100% original, but it also comes with a 100% content satisfaction money-back guarantee.
Content Writers' pricing ranges from $99 per piece of original content through their self-service platform to other unique packages customized to your needs through working with a dedicated content success specialist.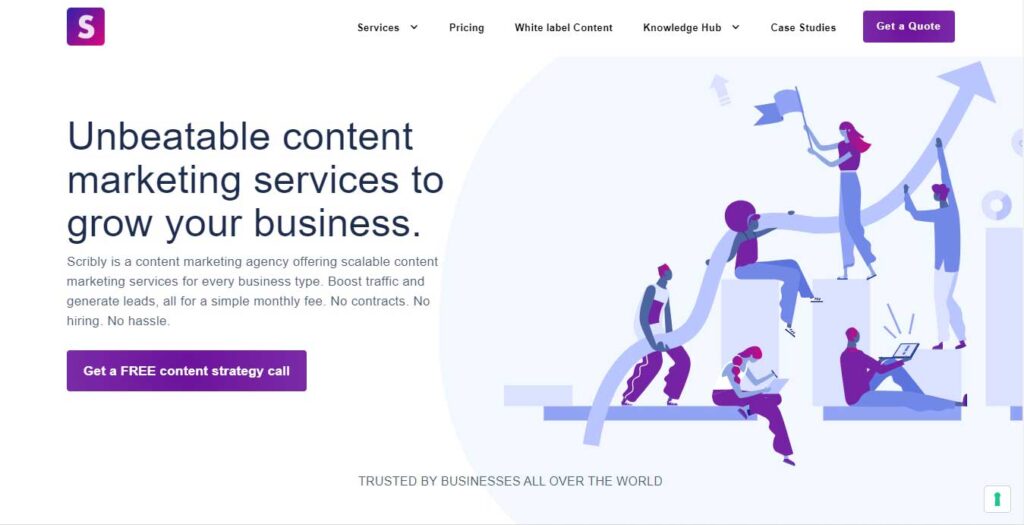 Scribly is a top-rated SEO content writing service that helps businesses increase traffic and leads with ease. It boasts a skilled and experienced team that manages the entire content marketing process, from keyword research to developing a strategy. Scribly provides scalable content marketing solutions for various types of businesses including agencies, SaaS startups, e-commerce brands, healthcare products, and more. Companies that have used Scribly.io praise its exceptional copy quality.
Scribly offers three plans to fit different SEO strategies. The plans are priced at $599 per month for 2,000 words, $1,450 per month for 6,500 words, and $4,300 per month for 20,000 words.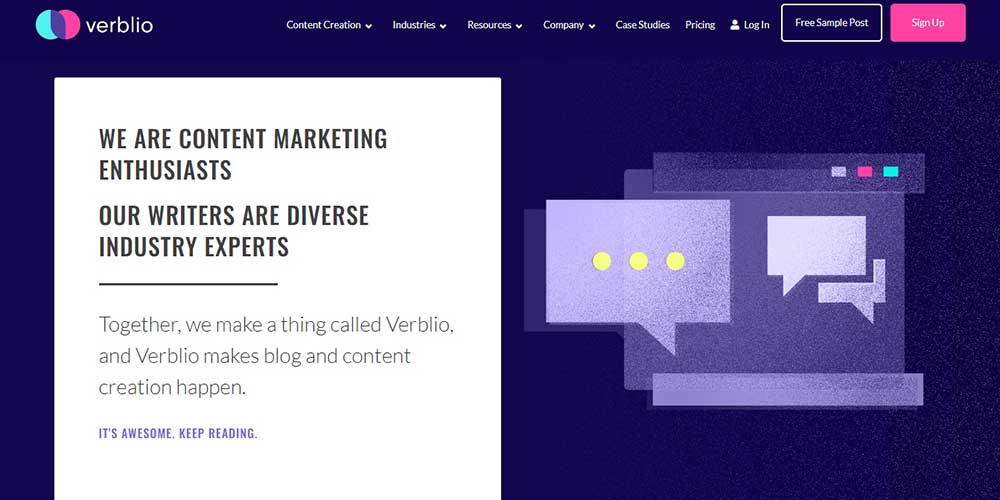 Verblio is a content writing service that combines technology and human expertise to offer high-quality content to businesses. With a pool of 3,000 US-based writers, the company provides a wide range of formats, including blog posts, articles, web copy, eBooks, and big content projects. Verblio's platform enables clients to choose their writers and pick only the content they like.
Additionally, it offers Pro Services and a full-service option, Verblio Valet. With writers from diverse backgrounds ranging from astrology to zoology, Verblio is equipped to serve businesses across various industries. The company is staffed by SEO experts and English majors who strive to provide the best content writing experience. They have an awesome cost calculator where you can decide on the payment based on your requirements.
Organic growth is fueled by content
If you're seeking top-notch content writers, this list should be a valuable resource. Keep in mind that regularly updating your blog is essential. These SEO writing services offer a variety of services, including blog posts, landing pages, email copy, and more.
There's no denying that content marketing plays a crucial role in today's digital marketing landscape. A well-planned content strategy will improve your search engine rankings, attract more visitors to your site, enhance your brand recognition, and drive your business forward. Don't miss out on shaping your future.
Book Your No-Obligation Free Consultation Now
Advance your business through an inspiring online presence around the globe. To get started, book your FREE consultation and we will take it from there.