Starting a consulting business can be a fulfilling and lucrative career path, and having a website is an essential tool for promoting your services and attracting new clients. A well-designed and optimized consulting website can serve as an effective marketing tool, helping to establish credibility, generate leads, and grow a consulting business.
It is important to determine your target audience and the purpose of your website before designing. Are you targeting small businesses, individual consumers, or a specific industry? Do you want to use your website to generate leads, provide information, or sell products or services? All of the information you collect will be your website strategy of your business which should comply with your business development goals.
Next, select a website builder or content management system (CMS). There are many options for building a website, including website builders like Wix or Weebly, and CMS platforms like WordPress or Joomla. Each has its own set of features and benefits. We at Ehsan Labs have WordPress as our go to CMS due to its customization options and ease of use. Learn more on why you should choose WordPress here.
To make matters even easier, a lot of ready-made templates are available online for you to utilize. With their easy-to-use customization features you can make them your very own with no coding skills required.
Our Choice of Consulting Website templates
1. Avantage - Business Consulting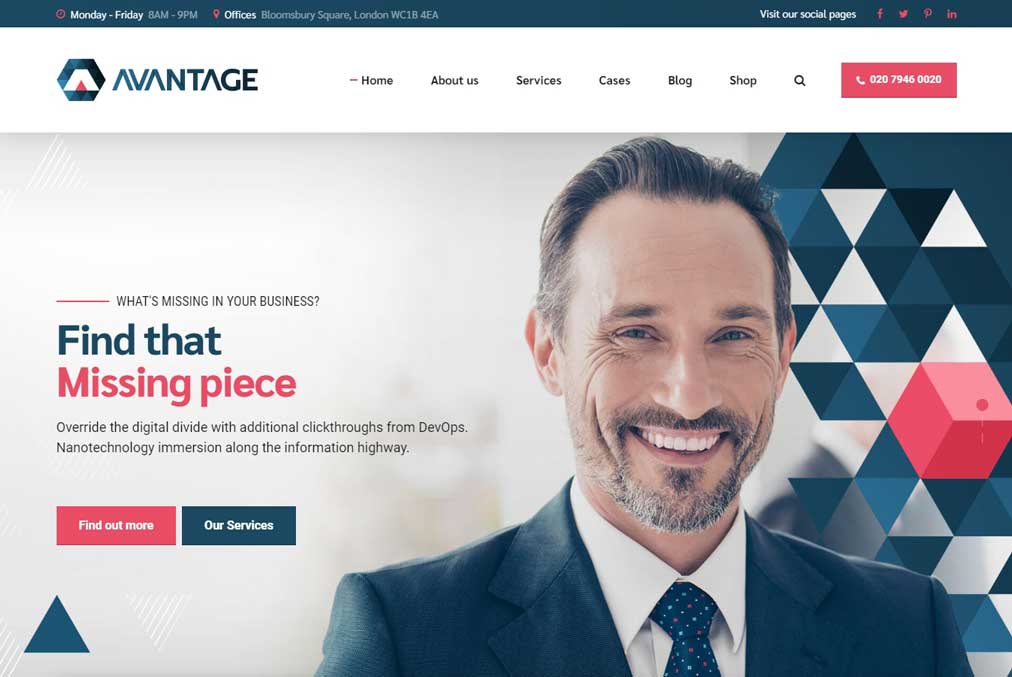 Prepared by Bold themes and 4K sales up to date, Avantage is an all-in-one solution for any Consulting website. Special demos for Business, Marketing, HR, Financial, Invest consulting and many more. Each including a mixture of Design, Imagery, and grid to attract your potential leads.
Customize it with a simple drag-and-drop editor based on your needs with no-coding skills required. Have a road-block get help from their online documentation or their helpful support team.
2. Consultio - Consulting Corporate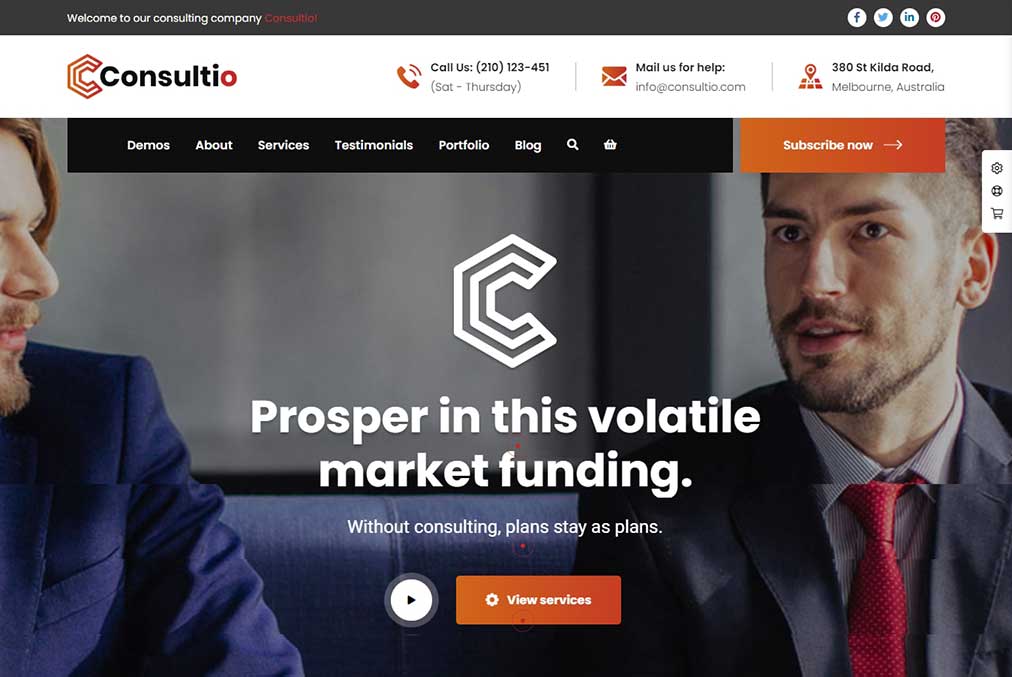 Consultio has over 70+ demos all related to consultancy and services, so you will have no shortage of choices. Sold over 3.6K times, it also supports RTL (right to left) language option.
Build with the amazing Elementor Builder any one with no-coding experience can customize it to make it their own.
Included with the package is the 24/7 support by their professional staff, so you will have no shortage of help to make the website your own
3. Consulting - Business, Finance WordPress Theme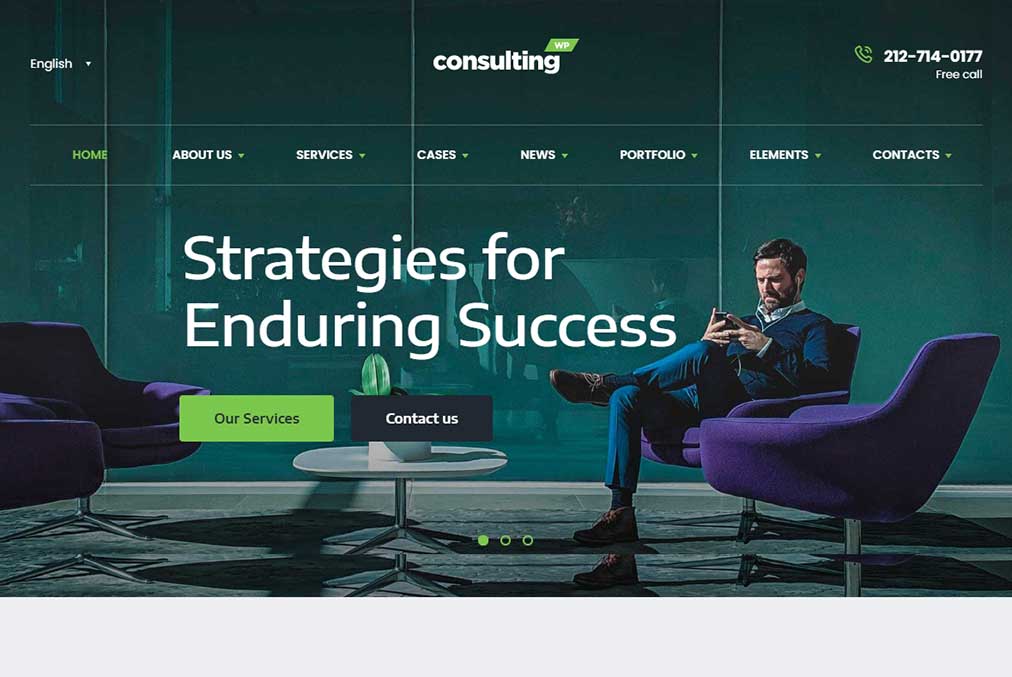 Consulting is a well-developed and mobile friendly platform for designing and creating amazing consulting websites.
Deploying both WP Bakery and Elementor website builder, Consulting put dozens of demos and website elements at your disposal.
Consulting has over 25K total in sales, making it the most sought out choice for consulting website. Its numerous services highlighted with SEO enhanced service catalogs and portfolios will definitely do the job for you.  
4. Avante | Business Consulting WordPress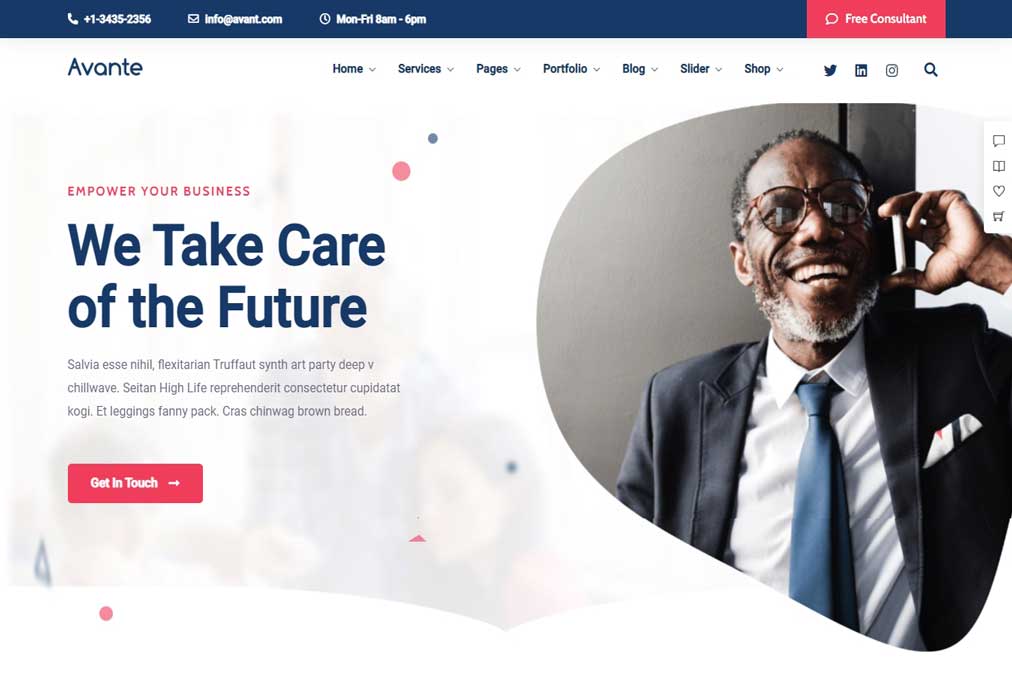 Avante misses nothing in its massive bundle of page layouts, features, and plugins. If you are searching for a versatile Consulting WordPress theme, Avante is exactly what you are searching for.
A relatively new entrant with only 1.8K sales, Avante surprised us when we went reviewing its contents. The deeper we went, the more speechless we became.
You can easily mange your whole consulting business with this just one theme. The Elementor Web builder covers all the basics and elements needed to run your site – without using any third party tools.
Avante is compatible with everything, you can expand it however you want.
5. Consultix - Business Consulting WordPress Theme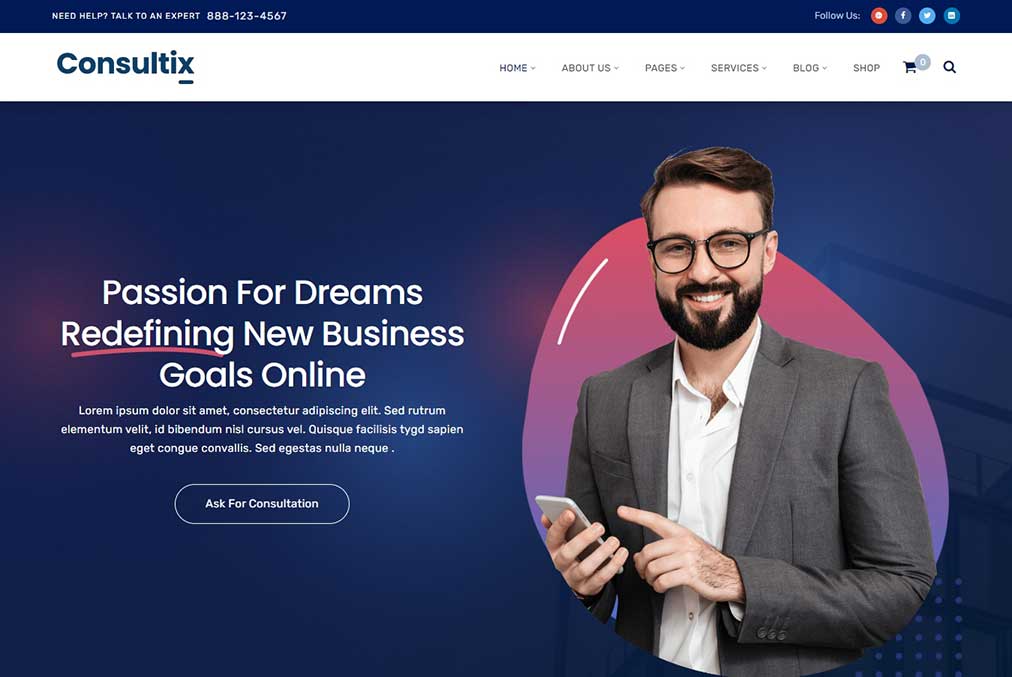 Consultix is a multipurpose WordPress theme whose focus is on Business consultation. This theme suits the financial and investment industries very well.
It features both WP Bakery and Elementor page builder to make endless customization and set up amazing photo galleries, slides and products.
Consultix also comes with multiple demos. It features contact pages forms with Ajax, and it is entirely translatable.
You will find WooCommerce integration, a shopping sidebar, cart summaries, mini carts, etc.
How to ensure that your Consulting Website is up to the mark.
Here are some key components that a consulting website should include:
A clear and compelling value proposition: A value proposition is a statement that outlines the unique benefits and value that a consulting firm or individual consultant offers to clients. This should be prominently displayed on the homepage or a dedicated landing page and should be written in language that resonates with the target audience.
Detailed information about services and expertise: Potential clients will want to know exactly what types of consulting services are offered, as well as the specific areas of expertise of the consulting firm or individual consultant. It's important to be as specific as possible here, and to provide examples or case studies that demonstrate the results that have been achieved for past clients.
A professional and visually appealing design: The design of a consulting website should be professional, clean, and visually appealing. This includes choosing an appropriate color scheme, layout, and font, as well as using high-quality images and graphics.
A clear and concise call to action: A call to action is a statement or button that encourages visitors to take a specific action, such as contacting the consulting firm or signing up for a newsletter. A clear and concise call to action should be included on every page of the website.
Contact information: It's important to include a contact form or other way for visitors to get in touch with the consulting firm or individual consultant. This could be a phone number, email address, or social media links.
By including these components, a consulting website can serve as a powerful marketing tool, helping to establish credibility, generate leads, and grow a consulting business.
The above themes and many others have made it a lot easier for any non-technical person to launch and build their own consulting websites. However, you might need help or advice when it comes to customization to depict your own unique brand. We at Ehsan Labs can come through for you to help make the theme truly your own. Contact us after acquiring any of the above themes and get a Discount on the price you will pay from our WordPress design packages.  
Book Your No-Obligation Free Consultation Now
Advance your business through an inspiring online presence around the globe. To get started, book your FREE consultation and we will take it from there.