If you're launching a website for your business, you're likely wondering which platform is better for SEO: WordPress or Shopify? Both platforms have their strengths and weaknesses, and the answer to this question isn't cut and dry. In this article, we'll take a deep dive into the pros and cons of both platforms to help you make an informed decision for your business. Some of the features regarding SEO that these platforms may bring to the table are: Customization, plugins & apps, ease of use, mobile responsiveness, and scalability.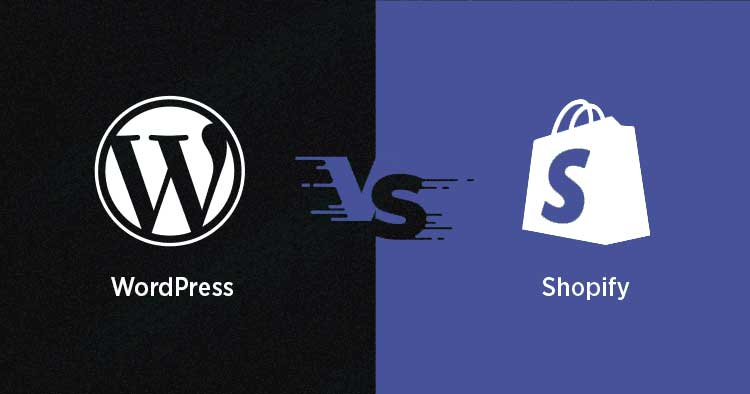 Customization Options: The King of Customization is WordPress
One of the biggest advantages of WordPress is its customization options. With access to a wide range of themes and plugins, you can truly make your website your own. This is a major advantage for businesses looking to stand out from the competition. However, this customization can come at a cost: a lack of technical knowledge can make WordPress difficult to navigate for some users.
Shopify, on the other hand, offers limited customization options. While you can still make your website unique with custom themes and plugins, you won't have as much control as you would with WordPress. This can be a pro or a con depending on your needs. If you're looking for a quick and easy platform, Shopify may be the way to go.
SEO: WordPress Brings the Heat with Plugins
When it comes to SEO, WordPress has an edge over Shopify. WordPress is equipped with a wide range of plugins that can help you optimize your website for search engines. From keyword research to on-page optimization, WordPress has it all. Some of the best SEO plugins that can work for you are Yoast SEO, All in One SEO Pack, and The SEO Framework.
Shopify, however, is no slouch in the SEO department either. The platform has built-in SEO tools that can help you optimize your website, such as customizable meta descriptions and titles and a well-structured URL structure.
Ease of Use: Shopify is the Clear Winner
While WordPress offers more customization options, Shopify is the clear winner when it comes to ease of use. You can create a website with a user-friendly interface and drag-and-drop builder in no time. And if you need help, Shopify offers 24/7 support to ensure your website is up and running smoothly.
On the other hand, WordPress can be a bit more technical and requires some knowledge of HTML and CSS to get the most out of it. While this can be a pro for those with technical skills, it can be a major con for those without.
Mobile-Friendly Design: Shopify Takes the Lead
A mobile-friendly website is crucial for your business in today's mobile-first world. Shopify has a responsive design built-in, which means your website will automatically adjust to fit any screen size. This makes it easy to ensure your website is accessible to all users, no matter what device they're using.
WordPress, while still mobile-friendly, requires a bit more work. You'll need to install a plugin or theme that's optimized for mobile devices to ensure your website is fully optimized for mobile.
Cost: WordPress is the Budget-Friendly Option
While both platforms have their costs, WordPress is the more budget-friendly option. WordPress is free to use, with additional costs for plugins and hosting. This makes it a great option for businesses just starting out or on a tight budget.
Shopify, on the other hand, has a monthly fee and transaction fees. While this may be a bit more expensive, the platform is fully hosted and secure, so you don't have to worry about managing your own server or data.
Scalability & Integration: WordPress all the way
When it comes to scalability, WordPress offers greater flexibility as it can be easily scaled to handle a large number of pages, posts, and visitors. Shopify, while still scalable, has limitations in terms of customization and third-party integrations.

Both platforms have integration options with various tools, but WordPress has a wider range of integrations due to its open-source nature. Shopify has integration options with e-commerce tools and payment gateways, while WordPress can integrate with a wider range of tools, including social media, analytics, and email marketing.
To give you a quick overview, here's a table comparing the pros.
| | | |
| --- | --- | --- |
| | | |
| | | Moderate (built-in tools) |
| | Moderate (requires technical knowledge) | High (user-friendly interface) |
| | Can be optimized with plugins | Responsive design built-in |
| | Low (free, with additional costs for plugins and hosting) | Monthly fee with additional transaction fees |
| | Large community with extensive support resources | 24/7 support from Shopify |
| | High (can handle high traffic and large amounts of data) | High (can handle high traffic and large amounts of data) |
| | Requires constant updates and monitoring | Secure platform with regular security updates |
| Integration with other tools | High (integrates with a wide range of tools and platforms) | Limited (limited integration options) |
| Control over server and data | Full control (self-hosted) | Limited control (hosted by Shopify) |
Which one I should choose then?
So is WordPress or Shopify better for SEO? If you're looking to flex your creative muscles and build a truly unique website, WordPress is your MVP. But if you want a platform that's user-friendly and won't require a degree in HTML, Shopify is your all-star. When it comes to SEO, both platforms have some heavy hitters, but WordPress has more options to help you optimize your site. And when it comes to being budget-friendly, it's a tie! WordPress is free to use, but you'll need to pay for plugins and hosting, while Shopify has a monthly fee but takes care of all the hosting for you. So, grab your popcorn and sit back to enjoy this epic game – the winner is up to you!
Book Your No-Obligation Free Consultation Now
Advance your Website SEO today.  To get started, book your FREE consultation and we will take it from there.