If you are running a B2B business in today's internet-fueled marketplace, having a website is a necessity. Studies show that 85% of your B2B consumers will search for your web presence before even start talking with you. Websites and online searches are now taking over traditional sales references and face-to-face interactions. This makes your website an important asset in running the business and should contain details and information about your services and products.
But, I already have my website made?
Merely having an informational website is not enough either. It should communicate how your firm addresses the buyers' challenges and establish your credibility and reliability in the marketplace. Web credibility research by Stanford suggests that 75% of users admit to judging a firm's credibility based on its website. Moreover, over 71% of small businesses already have a running website. So, for you to succeed in your business a credible, educational site with an amazing B2B Website design, is a must, that drives your online presence forward.
Another priority should be to have a 'High-Performance' or 'Lead-Generation' website. A Lead-generation website as opposed to a simple 'brochure' site, is meant to generate new leads for your business, nurture them, and eventually create new business partnerships. These sites are more sought after by firms and are recommended by us. Since they are found to generate growth Four Times more than simple informative sites. We are going to focus on Lead-Generation sites when discussing B2B Website Strategy in this blog. To know more about Lead-Generation sites and why they are important visit our previous blog here.
Now, how do you create such a website? The first milestone is to come up with an effective B2B Website Strategy.
A B2B Website Strategy is a documented plan a business has for its website's role, design, functionalities, and end goals. It is a must-have guide for developing and optimizing the website.
9 Steps of B2B Website Strategy
No two businesses have the same Website Strategy, but there are certain steps and best practices that you can take to make a credible and informative website.
1. Let's begin with a marketing model
The first thing you should do is figure out how your marketing and business development should work together. This will provide the framework upon which you can design and conceptualize your website. An example of your marketing framework could be the three-tier marketing funnel in Fig.1 below. At the first tier, you have potential customers unaware of your services or products. The activity here will be to adopt techniques to broaden your brand visibility and attract the right prospects. The only goal here is to make the right people aware of your brand and firm and provide the path to closing.
In the second tier, you will build engagement with your attracted prospects by giving them useful and educational resources or allowing them to express their input. Some of your prospects will require weeks or even months before closing. So, this is a long-term exercise to build a relationship with your potential buyer.
Finally, your prospect reaches the bottom of your funnel when they are ready to buy one of your solutions. Effective communication should be maintained to help the prospect be ready to buy.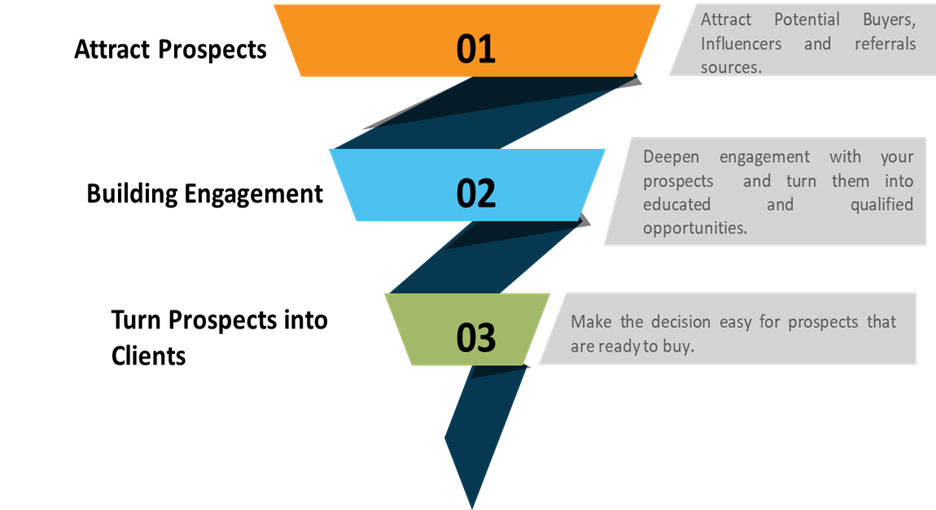 Three-tier marketing model for prospects.
You will need to realize the above marketing strategy in your website design, at every step of the funnel. The main ingredient is your website content.
2. Attract them with your content
One of the first things your online prospect will notice is your website content. Based on your services and strategy you will need to specify what content will be useful. You will have to clearly articulate your brand information, your services, and who are your services for. Every page on your website should be clear about your value propositions and the problems you solve and should mesh perfectly with your B2B Website Design. Know your audience niche and how they should be dealt with. Once the content is set you need to make sure it reaches the right prospects, this is where SEO (Search Engine Optimization) comes in.
3. SEO is a must
The best way to attract visitors is through SEO (Search Engine Optimization). The content on your pages should be optimized so that it can rank higher on Google and other search engine pages. SEO is an ongoing process that includes link-building to increase your page and domain authority. You might need to spend extra bucks to do paid SEO, however, the dividends will surely pay more.
4. Great Design closes clients
50 milliseconds or 0.05 seconds, that's all it takes a user to make a snap decision about your website, whether they will stay or leave. So, a great design has huge implications in the digital world. Research also shows that positive first impressions can last for years. Hence longer retention of clients. Investing in website design, which includes aesthetics, navigation, strategically place content and CTAs (Call to action buttons) can work wonders for your potential prospects.
Moreover, it is paramount to have a beautifully designed mobile site as well. Over half of E-Commerce revenue today is generated from mobile devices. All of this goes to show that you invest in your B2B Website design is a competitive advantage.
Know more about B2B Website design here.
5. You will need a blog
A good way to share educational and useful content is via blogs. Continuous sharing of your valuable expertise and insights to the world is key to your lead generation. Each blog page can be optimized with SEO techniques which will bring you more clients. Writing a blog is an excellent strategy for letting people find you and begin to trust your insights. You will need to produce genuine new pieces regularly. In addition, you can create resource libraries, with relevant news articles, videos, and webinar recordings and relate them to your blog post.
6. You will also need an Offer Strategy
Good Offers will help you promote your valuable content. Strategically placed offers on your website pages can act as advertisements to entice your prospects to finally close the deal. These could be simple as blog subscriptions or signing up to your email list to receive your content. You also need to aesthetically present your offers in your b2b website design, so it stands out without being forced.
7. Send Emails
Users have taken up your offer and have provided you with their emails. Now it is your job to send out relevant content. They can get the latest blog post on your website or exclusive high-value content based on your marketing strategy. Make additional offers to produce a higher level of engagement. Nurture your leads by regularly reaching out to them.
8. Make Social Media Channels
Social Media Channels can be used to expand the boundary of lead generation and nurturing beyond your website. Share relevant content on them and they can lead prospects to your website which is the main hub of your content. You can directly engage with the prospects, answering their queries quickly. Add social media links in strategic places in your b2b website design.
9. Automation and analytics to make it all possible
How will you know that your website is generating leads? Without good analytics, it is impossible to know. You will need a process to capture conversion, and regularly monitor and analyze traffics at your site. Google Analytics is free and easy to install. However, you may need more advanced analytics software to give more reliable information.
With Automation, you can make your lead generation more consistent and successful, while giving you more time to focus on your content.
Let's Strategize together
We at Ehsan Labs will help you create your optimal B2B website which will one day take your business to new heights. We will take care of the technical aspects like Email Marketing, Automation, and B2B Website design while digital marketers or excellent content writers will work with you to create highly valuable material for your website that can generate leads, nurture them and finally close them.